Soholaunch is a self-hosted website builder that includes a range of site building and content management tools. Despite recent changes to its operations and being a bit outdated, Soholaunch is still a user-friendly option worth considering.
In this guide, we take a closer look at creating your own simple business website with Soholaunch. Follow the steps below to get your site online in no time.
How to create your own website with Soholaunch: Preparation
Soholaunch is a self-hosted solution. Before you can start building your website, you'll need to purchase web hosting. This provides the processing power and infrastructure necessary to run the SohoLaunch program. There are numerous hosting providers to choose from. We use Hostinger (opens in a new tab)an industry leading option with very competitive prices.
Most hosting platforms offer some sort of one-click installer (such as Softaculous (opens in a new tab) or Installatron (opens in a new tab)) which will install scripts like Soholaunch in just minutes. If you use Hostinger, you can take advantage of their proprietary automatic installer, which allows you to install Soholaunch and various other programs with just a couple of clicks.
You can find the automatic installer in your main hPanel control panel. Just follow the prompts to install Soholaunch. A complete installation guide (opens in a new tab) can be found in the Hostinger support center.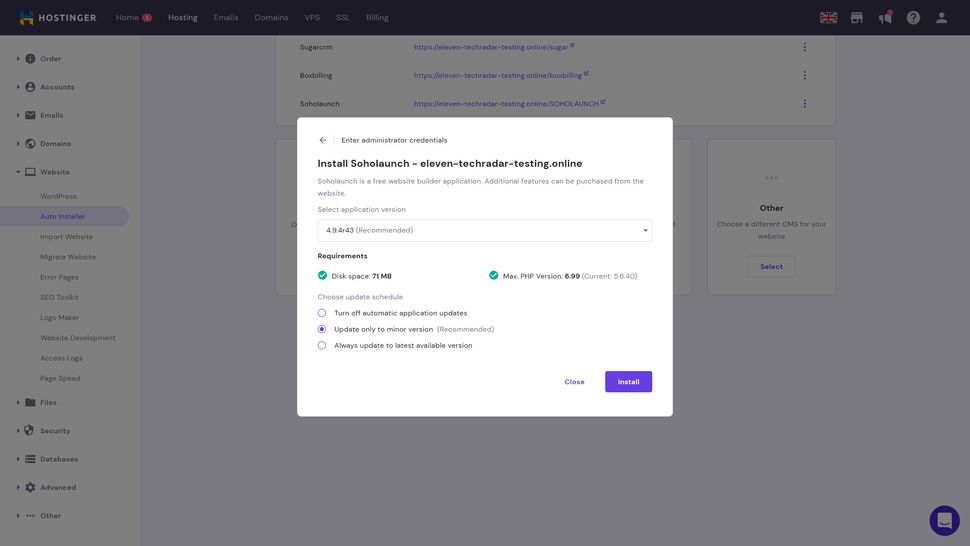 Step 1: Add pages
When you first open Soholaunch, you'll be given the option to use the Website Wizard to get your site up and running. The first step is to select the pages you want to add to your site.
There are numerous options available, and each page you select will be created automatically. Every site has a home page, even if you don't select any other page.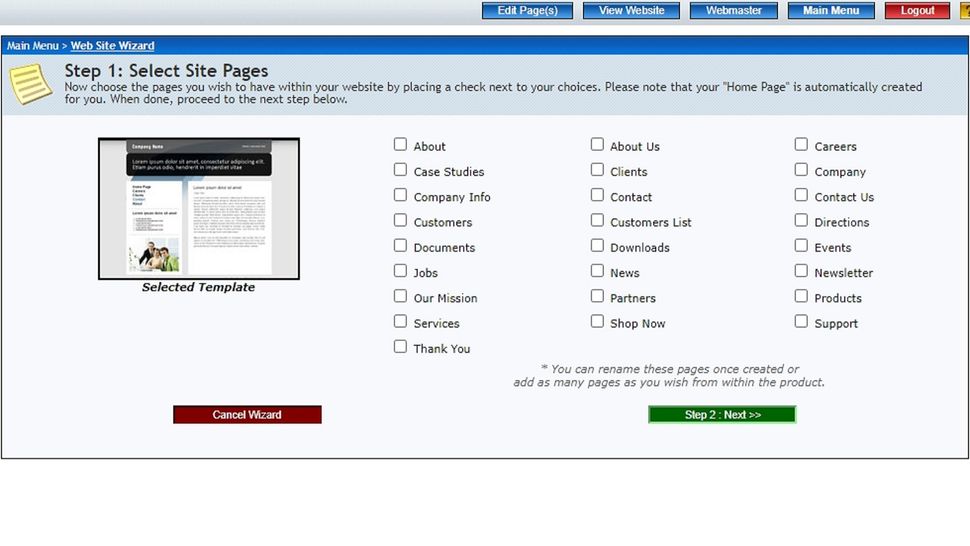 Step 2: Enter the website information
Soholaunch's setup wizard then asks for the website's email address, website title, and some basic business information. None of this is required, but it's generally a good idea to add at least some basic information.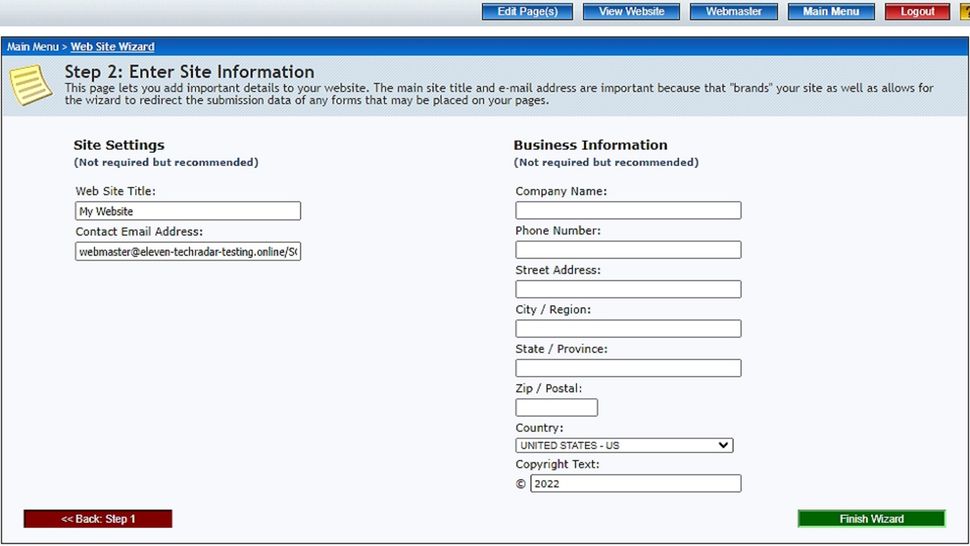 Step 3: Customize the content of your page
Once you've worked through the initial setup wizard, we recommend that you customize your page content a bit more. To do this, go to the pages tab and hit the edit button on the page you want to customize.
Soholaunch uses a very unique editor. It involves adding new blocks to a grid and customizing each one individually. This can be a bit confusing at first, but it's actually very efficient.
You can also edit the page properties. Some things you can change include the page title, page template, keywords, and description. We suggest spending a little time on these, as quality descriptions and titles will help you rank higher in search engines.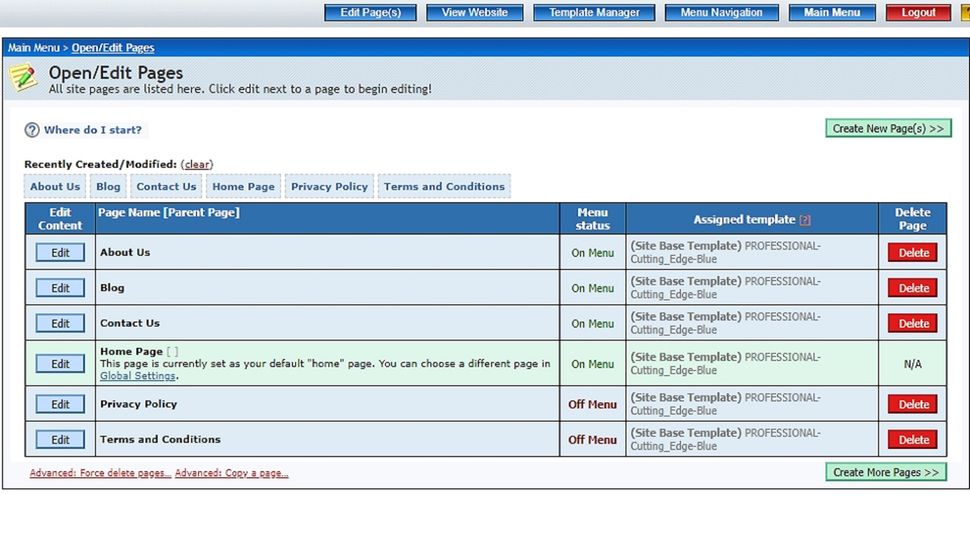 Step 4: Test a new template
On the Template Manager tab, you'll find a selection of themes that you can use to change the overall look and feel of your site. Most of the built-in themes are quite outdated, but it is possible to upload your own template if you wish. There's even a template builder that lets you put together a truly custom design.
Look for the features included with each template. These are listed on the right of the screen and some layouts have more features than others.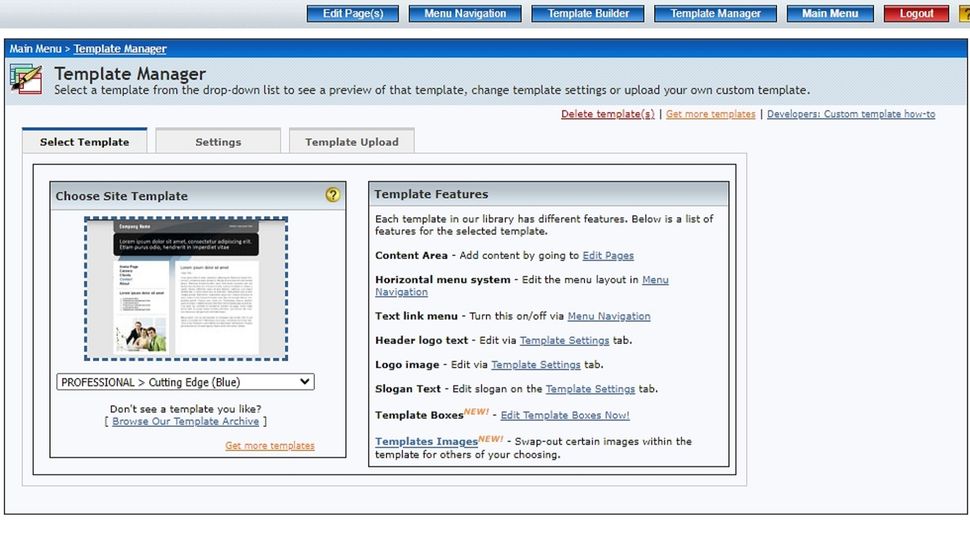 Next, we suggest you customize your menu design. On the Menu Navigation tab, you'll find a bunch of settings that let you change the layout, order, and display settings of the menu. You can create submenus if needed, and custom menu links are available if you want to link to an email address or external website.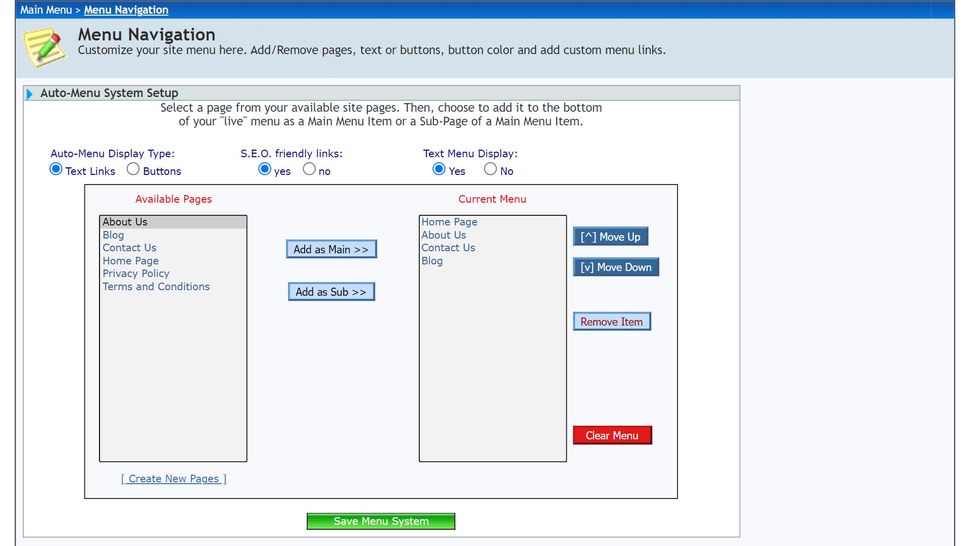 Step 6: Add Plugins
The Soholaunch plugin library contains numerous plugins that you can use to add additional functionality to your website. We suggest taking a look to see if any of them are useful. However, keep in mind that the plugins have not been updated for more than five years.
It is also possible to create and upload custom plugins if required.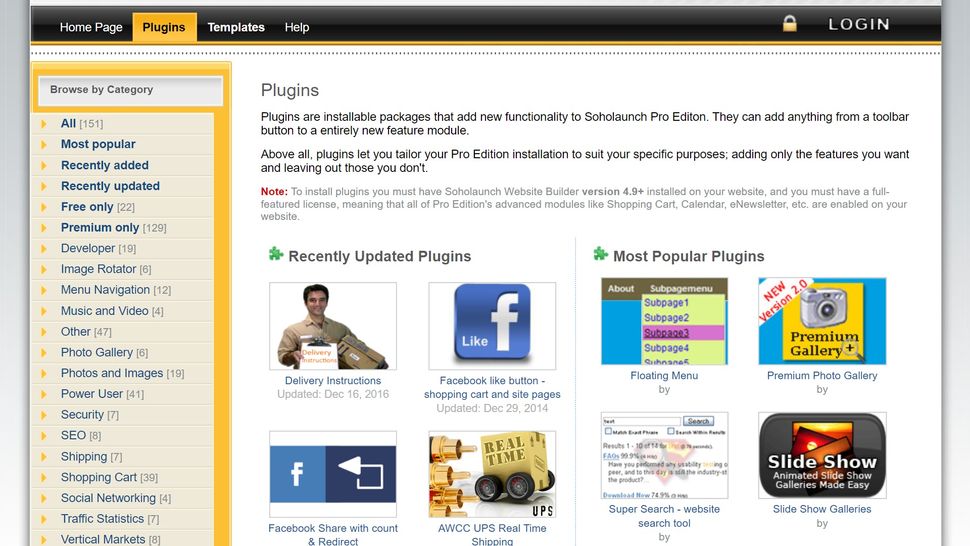 By now you should have a pretty decent website up and running. Under the Advanced Features Group heading, there are some more specialized tools that you might find useful. For example, you can add a shopping cart to your site if you want to sell products, add FAQs via the FAQ Manager, and take care of your blog via the Blog Manager.
You can also access website backups, traffic statistics, and more through the Administrative Features menu.
Summary
Soholaunch is something of an outdated website builder, but it's still fully functional and surprisingly easy to use. In this guide, we take a close look at the steps involved in creating a Soholaunch website, outlining everything you need to know to get your site up and running.
Check out our guide to the best website builders (opens in a new tab) and discover some of the most modern alternatives to Soholaunch. You may also be interested in reading our Hostinger review (opens in a new tab) to find out why it's one of our top-rated hosts, or read more about what a website builder is (opens in a new tab).